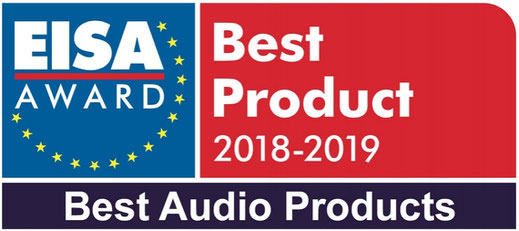 Die "Expert Imaging and Sound Association" ist eine unabhängiger, langjähriger Zusammenschluss zwischen über fünfzig der renommiertesten Consumer Electronic Zeitschriften. Mitglieder-Magazine von über 25 Länder teilen Ihre Erfahrungen zu einem oder mehreren der sechs EISA Expertengruppen in den Sparten Hi-Fi, Home Theatre Audio, Home Theatre Display, Video and In-Car Electronics, Fotograpfie & Mobile Devices.
Jedes Jahr werden die besten technischen & elektronischen Neuheiten, mit den herausragensten Eigenschaften und bestem Preis-/ Leistungsverhältniss mit einem EISA Award ausgezeichnet. Die Produkte mit den meisten Punkten (Stimmen) erhalten schliesslich den begehrten EISA Award.
Zu unserem Sortiment gehören folgende Produkte.